Murals of Kerala, dating back to 8th century, are unparalleled in their subtlety, sharpness and ethereal beauty. Mural, originating from 'murus' from the Latin, meaning wall is an artwork painted directly on wall or ceiling to blend with the architectural characteristic of the space. The art on the surfaces of temples and palaces, unfolding countless ancient mythological sagas, is a visual treat and evidence of significant perseverance of the artists.
Murals of Kerala is undoubtedly the largest collection of this ancient art form, inspired by epics and folklore and dance forms like Koodiyattam and Mohiniyattam. The figures depicted are rendered with elongated eyes, voluminous lips and explicit body gestures.  A lesser known fact is that most of the Kerala murals follow the traditional Panchavarna principle, where only five colours – red, yellow, green, black and white, all derived naturally, complete one particular piece of work.
It is one of the toughest art forms in India to create. Kerala Mural is possibly the only traditional Indian art form where multiple layers of shading and techniques like stippling are used to complete the art form.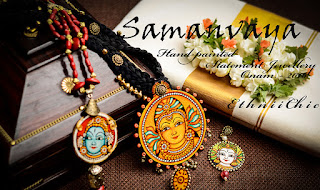 Samanvaya – "Coming together in the same proportion to become one entity"- That's the universal truth of life. Life is a balance, where everything has to come in the correct proportion, to
get its existence. This collection of eternal beauties of exceptional craftsmanship, be it art, be it design couldn't have got a better name. This collection is an attempt to take the art form from the walls of temples and palaces to augment the beauty of woman through the jewelry she adorns.
EthniiChic presents a unique collection of Kerala Mural based jewelry – Samanvaya. Each of the hand painted piece of art done on wooden base is an exquisite piece of jewelry. The beads and other materials used are carefully selected to match the hand painted pendant and look unique. Lot of passion and efforts have gone into making each of the jewelry. Kerala Mural Jewelry in a never seen before avatar – totally grand.. totally trendy.. totally festive.. There has been a deliberate effort not to repeat a design for any of the elements in this collection, making each piece a unique entity.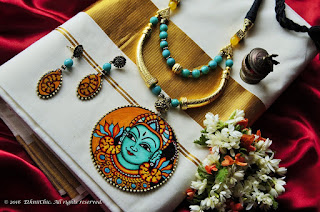 Bring eternal design to your jewelry collection with these handcrafted Mural art pendants. . The masterpiece painted in acrylic colors strung together with semi-precious stones embodies mythological characters. Pair these with any ethnic wear/ party wear to give you a complete look.

Derived from raw imagination, this hand painted Mural art pendant details the essence of mythology with each stroke. Exquisitely painted on design wood, it is hung on braided cotton threads. Pair this necklace with gorgeous sari to look absolutely stunning.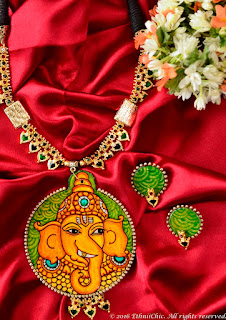 The details are intricately painted with acrylic colours adorned on traditional Kerala Palakka Maala, a combination that is never seen before. Pair this necklace set with a gorgeous sari to look absolutely stunning.